The safety and efficacy of the agents and/or uses under investigation have not been established. There is no guarantee that the agents will receive health authority approval or become commercially available in any country for the uses being investigated.
Updated as of December 31, 2021.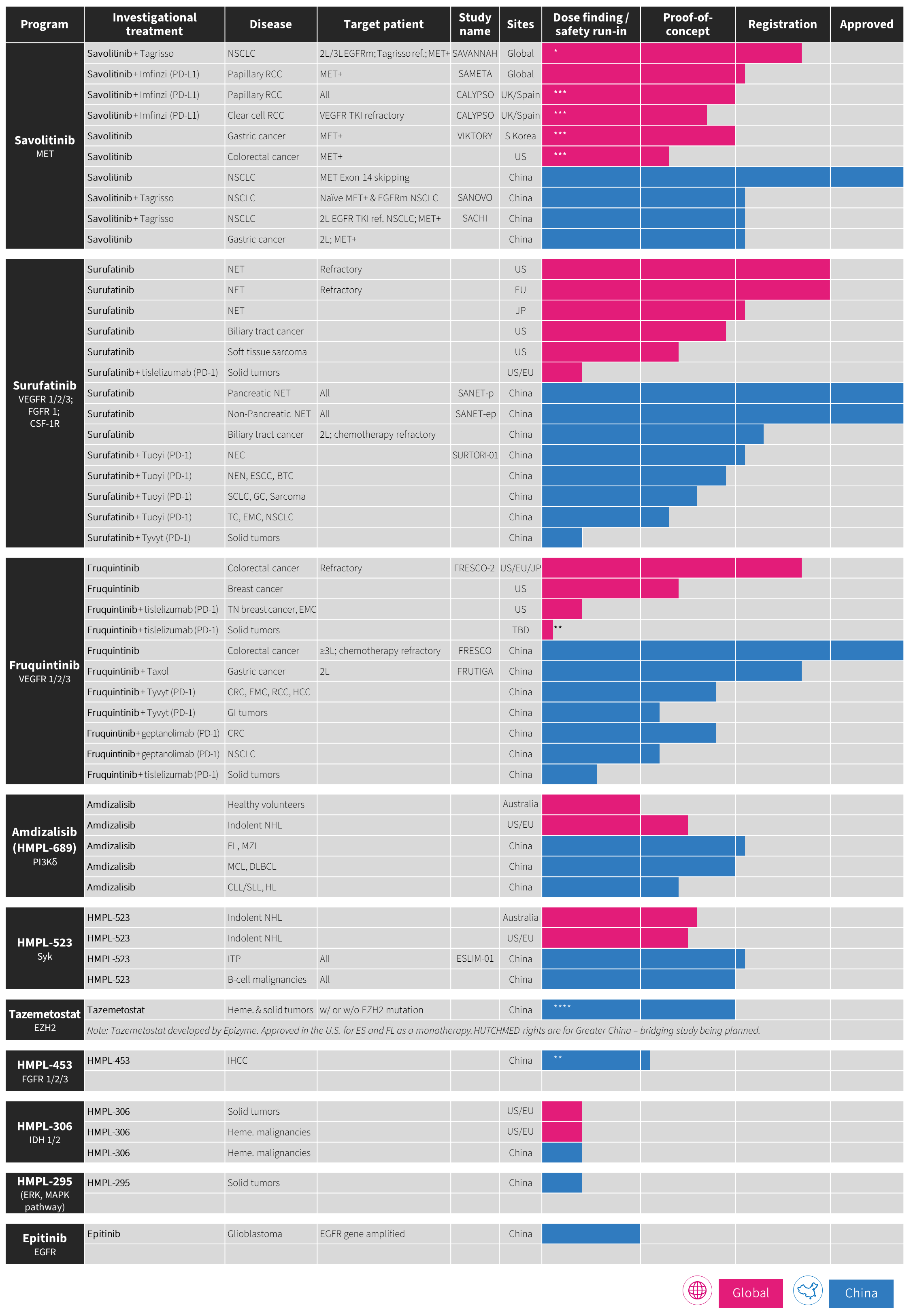 * Phase II registration-intent study subject to regulatory discussion; ** In planning; *** Investigator-initiated trials (IIT);**** Development in collaboration with Epizyme.
Note: MET = mesenchymal epithelial transition receptor, VEGFR = vascular endothelial growth factor receptor, TKI = tyrosine kinase inhibitor, EGFRm = epidermal growth factor receptor mutation, FGFR1 = fibroblast growth factor receptor 1, CSF-1R = colony stimulating factor-1 receptor, NET = neuroendocrine tumors, NEC = Neuroendocrine Carcinoma, NEN = neuroendocrine neoplasms, ESCC = esophagealsquamous-cellcarcinomas, BTC = biliary tract cancer, SCLC = small cell lung cancer, GC = gastric cancer, TC = thyroid cancer, EMC = endometrial cancer, CRC = colorectal cancer, HCC = hepatocellular carcinoma, GI = gastrointestinal, Syk = spleen tyrosine kinase, PI3Kδ = Phosphatidylinositol-3-Kinase delta, NSCLC = non-small cell lung cancer, RCC = renal cell carcinoma, NHL = Non-Hodgkin's Lymphoma, FL = follicular lymphoma, MZL = marginal zone lymphoma, MCL = mantle cell lymphoma, DLBCL = diffuse large B cell lymphoma, CLL/SLL = chronic lymphocytic leukemia/small lymphocytic lymphoma, HL = Hodgkin's lymphoma, ITP = immune thrombocytopenic purpura, IHCC = Intrahepatic cholangiocarcinoma, IDH 1/2 = isocitrate dehydrogenase 1/2, ERK = extracellular-signal-regulated kinase, MAPK pathway = RAS-RAF-MEK-ERK signaling cascade.