Sovleplenib (HMPL-523), a novel Syk inhibitor, for patients with primary immune thrombocytopenia in China: a randomised, double-blind, placebo-controlled, phase 1b/2 study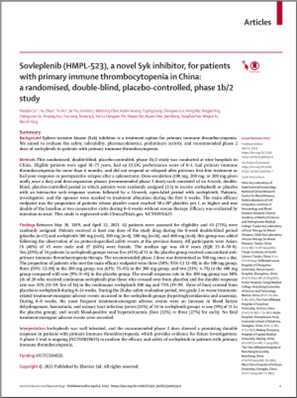 Xiaofan Liu, Hu Zhou, Yu Hu, Jie Yin, Junmin Li, Wenming Chen, Ruibin Huang, Yuping Gong, Chengwei Luo, Heng Mei, Bingjie Ding, Chengyuan Gu, Huiping Sun, Yun Leng, Dexiang Ji, Yan Li, Hongyan Yin, Haiyan Shi, Keyan Chen, Jian Wang, Songhua Fan, Weiguo Su, Renchi Yang
Summary
Background
Spleen tyrosine kinase (Syk) inhibitor is a treatment option for primary immune thrombocytopenia. We aimed to evaluate the safety, tolerability, pharmacokinetics, preliminary activity, and recommended phase 2 dose of sovleplenib in patients with primary immune thrombocytopenia.
Methods
This randomised, double-blind, placebo-controlled, phase 1b/2 study was conducted at nine hospitals in China. Eligible patients were aged 18–75 years, had an ECOG performance score of 0–1, had primary immune thrombocytopenia for more than 6 months, and did not respond or relapsed after previous first-line treatment or had poor response or postoperative relapse after a splenectomy. Dose-escalation (100 mg, 200 mg, or 300 mg given orally once a day) and dose-expansion phases (recommended phase 2 dose) each consisted of an 8-week, double-blind, placebo-controlled period in which patients were randomly assigned (3:1) to receive sovleplenib or placebo with an interactive web response system followed by a 16-week, open-label period with sovleplenib. Patients, investigators, and the sponsor were masked to treatment allocation during the first 8 weeks. The main efficacy endpoint was the proportion of patients whose platelet count reached 30 × 10⁹ platelets per L or higher and was double of the baseline at two consecutive visits during 0–8 weeks without rescue therapy. Efficacy was evaluated by intention-to-treat.
Findings
Between May 30, 2019, and April 22, 2021, 62 patients were assessed for eligibility and 45 (73%) were randomly assigned. Patients received at least one dose of the study drug during the 8-week double-blind period (placebo [n=11] and sovleplenib 100 mg [n=6], 200 mg [n=6], 300 mg [n=16], and 400 mg [n=6]; this group was added following the observation of no protocol-specified safety events at the previous doses). All participants were Asian; 18 (40%) of 45 were male and 27 (60%) were female. The median age was 40∙0 years (IQR 33∙0–50∙0). Ten (29%) of 34 patients in sovleplenib groups versus five (45%) of 11 in the placebo group received concomitant anti-primary immune thrombocytopenia therapy. The recommended phase 2 dose was determined as 300 mg once a day. The proportion of patients who met the main efficacy endpoint were three (50%; 95% CI 12–88) in the 100 mg group, three (50%; 12–88) in the 200 mg group, ten (63%; 35–85) in the 300 mg group, and two (33%; 4–78) in the 400 mg group compared with one (9%; 0–41) in the placebo group. The overall response rate in the 300 mg group was 80% (16 of 20 who received continuous sovleplenib plus those who crossed over from placebo) and the durable response rate was 31% (11–59; five of 16) in the continuous sovleplenib 300 mg and 75% (19–99; three of four) crossed from placebo to sovleplenib during 0–24 weeks. During the 28-day safety evaluation period, two grade 2 or worse treatment-related treatment-emergent adverse events occurred in the sovleplenib groups (hypertriglyceridaemia and anaemia). During 0–8 weeks, the most frequent treatment-emergent adverse events were an increase in blood lactate dehydrogenase, haematuria, and urinary tract infection (seven [21%] of 34 in sovleplenib groups vs one [9%] of 11 in the placebo group); and occult blood-positive and hyperuricaemia (four [12%] vs three [27%] for each). No fatal treatment-emergent adverse events were recorded.
Interpretation
Sovleplenib was well tolerated, and the recommended phase 2 dose showed a promising durable response in patients with primary immune thrombocytopenia, which provides evidence for future investigations. A phase 3 trial is ongoing (NCT05029635) to confirm the efficacy and safety of sovleplenib in patients with primary immune thrombocytopenia.
Funding
HUTCHMED.
Trial Registration
ClinicalTrials.gov Identifier: NCT03951623, NCT05029635
Citations and Links
Please follow the link below to access the publication:
THE LANCET Haematology. 2023 Apr; [    ]. doi: 10.1016/S2352-3026(23)00034-0. Published online April 4, 2023.
DOI: https://doi.org/10.1016/S2352-3026(23)00034-0
Link to article: https://www.thelancet.com/journals/lanhae/article/PiiS2352-3026(23)00034-0/fulltext